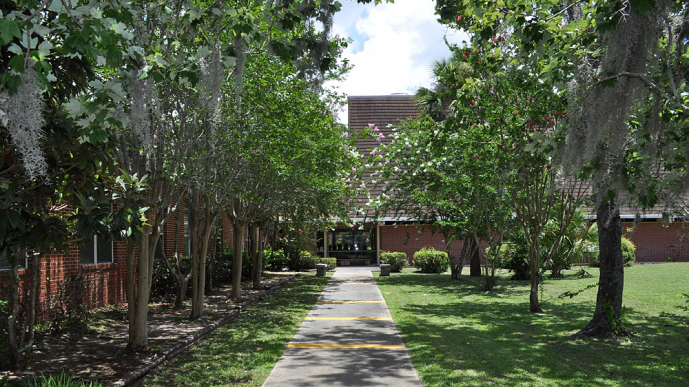 OUR NEW CHURCH BUILDING IS PURCHASED!!!
This year, God has opened many amazing doors of opportunity for ministry into our Jacksonville Arlington community. To date, the greatest blessing is the purchase of our new church home located at 6429 Atlantic Blvd. This
beautiful property is situated on 4 acres and

provides over 19,000 square feet of building, a sanctuary with seating for up to 400 and 15 educational classrooms for discipleship, community training and other church ministries.
We are committed to utilizing this campus and building in a significant way that will glory God and enrich the lives of our members and community for God's kingdom.
While we have made great strides to secure this property, significant renovations are needed to this building to modernize its beauty and improve its environment for greater worship, interaction and outreach services to our community.
YOU can help!
We need your help to raise our Capital Stewardship Campaign goal of $50,000 to begin renovation upgrades to this facility.
What gift amount is needed to be donated each month?
Every gift counts! We are asking each member and friend of New Life to make a financial gift of $100 (or more) every month to support this campaign. Remember, this gift is additional with regular tithe and offering contributions.
What will the Campaign contributions I give be used toward?
Your contribution will be used to finance costs for design services and renovation projects that cannot be funded by the annual budget.
How should I prepare to participate?
Begin with prayer. Allow God to speak to your heart and believe by faith that He will provide the funds that you're inspired to give. Read scripture passages that speak about stewardship and giving, such as 1 Corinthians 16:2, Proverbs 11:25, Proverbs 3:5-9, 2 Corinthians 8:7, Acts 20:35, Luke 6:38 and Psalm 116:12.
How can I give?
We offer a variety of ways to give including online, checks, credit cards, money orders and other assets.
ONLINE GIVING
Give now online (By clicking this link, you will be redirected to our donation page).
CASH APP
Instantly send your donation with Cash App. Enter our Cashtag: $NuLifeJax and the amount. Don't forget to enter what the donation is for: "Capital Campaign."
IN-PERSON
Contributions can be made in-person during our Sabbath worship services. Simply mark "Capital Campaign" on your giving envelope and submit your check or cash donation during the offertory period of Sabbath worship. 
MAIL
To mail your gift, please print this page with our donation form below and include with your check or money order. Please ensure checks and money orders are made payable to "New Life International SDA Church" and send to:
New Life International SDA Church | P.O. Box 11236 | Jacksonville, FL 32239
Thank you for your commitment and support of New Life International SDA Church.